After tying up a few loose ends in our new honey business, I took time off to engage in business banter with some residents who while their time away at Kijiweni, opposite the bus park.
Despite the lamentations about businesses taking a downturn and the rising cost of living, stoic traders in this fast growing township have learnt to be resilient.
They say when the going gets tough, the tough get going.
This is particularly true for my good old friend Boflo.
He is among the few traders who were running businesses at the bus park when I arrived in the town more than two decades ago.
No wonder a few strands of grey hair have begun appearing on his head.
I found him chewing jaba furiously and talking on the phone, green foam collecting at the corners of his mouth.
Jaba is said to make its consumer build castles in the air, travel to Dubai on an ego trip and return on a motorboat, all the while still sitting at Kijiweni.
Boflo, apart from being a regular consumer of jaba, the stimulating leaves of a khat variety, is also a seller of the same.
"I know you media people can be very useful in promoting business through advertising," he suggested, fingering a dog-eared copy of a local Kiswahili newspaper.
I took one look at the rickety structure that passes as his 'jaba base' and pitied Boflo, who apparently did not know how costly advertising can be.
"I can't afford that. What I want is someone like you to write my story," he pressed, seeming to read my mind and spitting the green stuff out.
"I wonder if there is anything much to write about your stall. There are so many of them scattered all over town," I volunteered.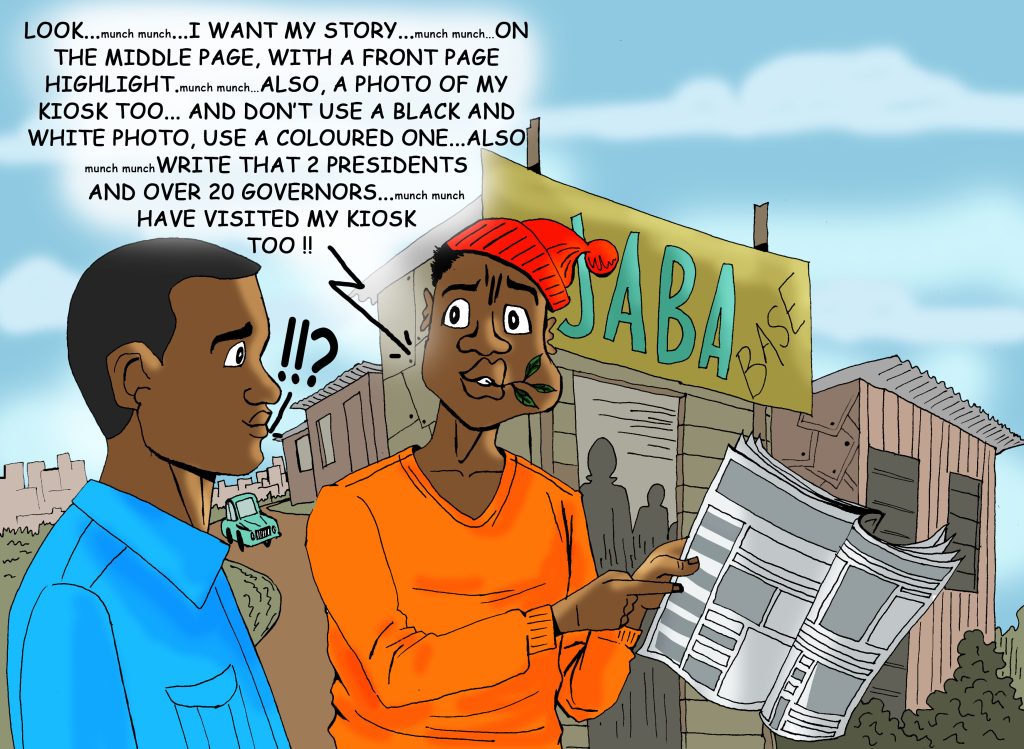 Listening carefully to his story though, I got an impression of a trader determined to go against all odds to survive in a highly competitive and capricious business environment.
Apparently, Boflo's story was akin to lightning striking twice, which they say hardly happens.
Boflo told me he had tried his hand in tuk tuk business, which performed so badly he had to sell it at a throw-away price.
"You see, I bought the tuk tuk at more than Ksh300,000 and hired a young man to run it. Initially, all went well till the boda bodas came in and took off a big chunk of the transport business. I sold it off at Ksh100,000, which I used to re-stock my kiosk," he said, stuffing more jaba into his mouth.
From there on he concentrated on selling miraa, which he said brought better returns than the common items like sugar and flour.
However, the same fate visited when jaba, which virtually eclipsed the miraa business because while miraa can go up to Ksh1,000 per bundle, one needs about a hundred shillings to get high on jaba.
This forced him to cut stock on miraa in favour of jaba despite the latter bringing less returns.
"That's good," I encouraged him. However, don't do away with miraa the way you did with tuk tuk," I advised.
He stared blankly at the opposite wall as if to conjure up something useful, but said nothing.
I guess he was considering throwing this out too.
By Pascal Mwandambo
Get more stories from our website: Sacco Review. For comments and clarifications, write to : Saccoreview@shrendpublishers.co.ke
Kindly follow us via our social media pages on Facebook: Sacco Review Newspaper for timely update